BASIL WELLS
Homepage | Collections | Short Story Checklist
Biographical Sketch | Oddments | Cover Artwork
Biography and Appreciation
Basil Eugene Wells was born in Springboro, Western Pennsylvania on June 11, 1912, the son of Carl Wells (a grocer and miller) and Gertrude Worden (an artist). He was the oldest of three children and was born into a Christian family; at one time his mother had taught in a Baptist Sunday School and Basil Wells kept his faith and remained a churchgoer all his life. Wells attended Springboro High School, from which he graduated in 1929. After two years at Houghton College (where he wrote a few pieces for the school newspaper), he married Margaret Hughes in 1935 and lived with his wife and children on a fifty-acre farm in Springboro. Using his old manual Smith Corona typewriter,Wells penned fiction on a part-time basis; his regular job of running chain machines (that manufactured zippers) for Talon Inc. (later Talon Textron, from which he finally retired in 1974) in nearby Meadville and the work involved in looking after his farmland taking up the rest of his time. Wells and his wife had two sons, Hugh Duane and William Carl, both born in the late 1930s.
As a teenager Wells was an avid reader of the legendary pulp magazine Amazing Stories. Falling in love with the science fiction genre, he began submitting his own story manuscripts to various science fiction magazines during the 1930s. For several years Wells was unable to sell any of his work, receiving dozens of rejection slips from magazine editors. Ironically, success finally came Wells' way during a period of unemployment before he secured a steady job with Talon Inc. in 1939. He wrote three short stories and attempted to sell them to the fiction magazines of the time. Two of them were rejected. The third, "Rebirth of Man", was accepted for publication by the pulp magazine Super Science Stories and became his first professional sale, appearing there in the September 1940 issue. Wells went on to sell dozens of science fiction and fantasy stories to a variety of periodicals throughout the 1940s. Eleven of these were published in the pulp magazine Planet Stories, while others appeared in magazines such as Fantasy Book and Stirring Science Stories. During this highly productive period Wells also sold a considerable number of western and detective stories to various pulp magazines, including Thrilling Western and Crack Detective Stories.
A typical science fiction story by Wells is fast-paced, exciting and full of weird and wacky ideas. Many of his stories deal with the theme of space exploration and Wells had a gift for describing strange alien worlds. He was also adept at conveying the peculiar psychologies of the alien life forms that were sometimes the viewpoint characters in his tales. A good deal of Wells' stories are in fact told from the point of view of aliens. Examples of these are "Quest of Thig" (1942), "Barren World" (1951) and "Exiles of the Forbidden Planet" (1951). Another common theme running through his sf work is that of one creature possessing the mind of another. Wells' stories often told of parasitical aliens taking over the minds and bodies of human beings, though in some stories the situation was described in reverse. One series of stories features the space explorer Balt Donner, who through the use of a device called a mentrol (an idea used in other stories) is able to enter and control the synthetic brain of a super-human android named Cass!
In addition to the Balt Donner stories, a number of other tales by Wells spawned sequels or related stories. "Quest of Thig" (1942) was followed by the sequel "Quest's End" (1944), both stories appearing in Planet Stories magazine. A number of his stories appear to be set in a shared near-future universe where mankind has begun to colonise other planets inside our solar system and beyond. These stories often share the same hardware; a high-tech hand weapon called an expoder appears in numerous tales written in this vein. However, his most important set of inter-connected stories are those tales that are set on the parallel world of Thrane. Thrane is an alternative world that exists alongside our own and others in a multi-dimensional universe. The stories that make up this series represent some of his best and most original writing. Stories in the Thrane series include "Fog of the Forgotten" (1946), "Gateways" (1949), "The Singer" (1951), "Ship of the Fog Seas" (1955) and "Tinikin" (1976).
Wells was an imaginative author who enjoyed a successful period following his debut on the sf scene in 1940. It should be noted that the influence of Edgar Rice Burroughs is apparent in a number of his early stories. Wells certainly used the planetary settings of Mars and Venus a number of times for his tales, though many others are set on imaginary worlds outside our own solar system. As well as being inspired by Burroughs, Wells admired the writings of a number of other early weird fiction authors. These included H. P. Lovecraft, Clark Ashton Smith, Robert Bloch, E. Hoffman Price and David H. Keller. Wells stated in 1949 that the success of his early writing also owed a great deal to the influence and coaching of the sf pulp magazine editors Leo Margulies, Robert A. Lowndes, Wilbur S. Peacock and Malcolm Reiss. Wells wrote a fair amount of straightforward sf adventure yarns, presumably to order, but much of his writing shows a more experimental and unorthodox side. Examples of this are unusual tales like "Animat" (1949), "The Chair" (1951) and "The Sudden Forest" (1951), the latter being one of his finest stories. Indeed, Wells commented that he could have written more stories in the style demanded by editors had he not chosen to explore more offbeat and fantastical themes in his fiction.
His stature in the sf field rose when William Crawford, founder of the Los Angeles based publisher Fantasy Publishing Co. Inc., issued two outstanding collections of Wells' short fiction. Planets of Adventure (1949) and Doorways to Space (1951) gathered together 30 cracking stories that showed just how diverse and entertaining a writer he was. Around this time Wells and his wife Margaret became good friends with the science fiction writing couple Leigh Brackett and Edmond Hamilton, who lived across the state border in Kinsman, Ohio. Brackett was also a regular contributor to Planet Stories and years later included Wells' short story "Quest of Thig" in her retrospective The Best of Planet Stories anthology, which was published by Ballantine in 1975.
In the early 1950s the pulp magazines were folding one after the other. As the market for his short stories largely evaporated, Wells' work was published less frequently. He did however continue to contribute some excellent stories to a variety of publications, including fanzines. Wells busily submitted articles to a number of sf fanzines such as the Burroughs Bulletin. He was a member of The Western Pennsylvania Science Fictioneers and joined a small group of sf enthusiasts called The Little Monsters of America (TLMA), run by Lynn A. Hickman. Wells wrote a regular column called "Thud and Blunder" for the TLMA newsletter and much later contributed to Hickman's The Pulp Era magazine. Hickman was an enthusiastic supporter of Wells' work.
From the mid 1950s to 1970, Wells had over 20 stories published in Worlds of If Science Fiction, Fantastic Universe, Spaceway Science Fiction and other digest-sized science fiction magazines. Some of the best of these were "Memorium" (1956), an understated and whimsical story and another fascinating alien-viewpoint tale called "The Soft Shells" (1968). Also worthy of note is the brilliant "Final Voyage" (1957), a story about a sentient spacehip. Interestingly, Wells remarked in 1994 that several of the stories he had sold to Worlds of If Science Fiction failed to be published before the magazine folded in 1974. Despite his diminished output, the quality of his stories during this period remained very high. If anything, his later fiction showed a more measured approach. An example of this is "From Distant Earth" (1968), a beautifully written story about a man and a woman stranded on an alien planet.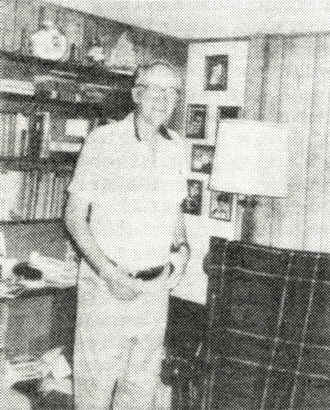 By the 1970s even the digest fiction magazines were all but dying out; short stories in magazines were going out of fashion. However, a series of outlandish short stories by Wells were published in W. Paul Ganley's Weirdbook magazine between 1975 and 1982. One of these stories was "Htaroo" (1977), a tale that was originally sold to William Crawford's Witchcraft and Sorcery magazine (formerly Coven 13) but was never printed due to the magazine's closure. Ganley rescued the unpublished "Htaroo" from the files of the defunct Witchcraft and Sorcery and printed the story in his own publication. In addition to the material published in Weirdbook, Wells self-published two limited edition booklet collections of his own work. Little Monsters and Silverskin and Other Little Monsters, both published in 1976, assembled a mixture of new and old stories. The titles were of course an affectionate reference to the TLMA organisation that Wells belonged to in the 1950s. Lynn A. Hickman did in fact write part of the introduction to Little Monsters.
After retiring from his full-time job at Talon Textron in Meadville, where he had worked for well over 30 years, Wells stopped writing fiction for a long time and began churning out over 300 weekly columns for his local newspaper. In 1979 Wells and his wife moved from Pennsylvania to live out their retirement in Keystone Heights, Florida. In the late 1980s two articles by Wells appeared in Other Worlds, a small-press magazine edited by Gary Lovisi. In these articles Wells reminisced about the friendship he and his wife Margaret had shared with Leigh Brackett and Edmond Hamilton, as well as the days of writing for Planet Stories in the 1940s.
It wasn't until the early 1990s that he once again tried to break into what he described as "the much tougher sf markets of today." He evidently met with some success, as a handful of Wells' short stories appeared in various small-press publications during this period. Among these was a fine story called "The Improbable Vandals", which was published in the Summer 1992 issue of Space and Time. In his editorial for this issue, Gordon Linzner announced plans to publish a new book collection of short stories by Basil Wells entitled Seeds of Rye. The stories that were to have been included in the collection apparently chronicled the lives of a pioneering family from the 1800's and into the future. This book was meant to appear under the Space and Time imprint, but unfortunately it was never published.
One of Wells' last published stories was "The Laws of Juss", which appeared in the Summer 1994 issue of Expanse. A small biographical piece about Wells was included in this issue in which Wells is quoted as saying that "the hope for truly entertaining stories today seems to be supplied by the small-press." Several outstanding stories by Wells appeared in the small-press publication Fantastic Collectibles Magazine throughout the 1990s. Among these were such classics as "Welcome Back...?" (1994), "Starsnow" (1995) and his last published story "Starkol" (1998). In recent years a number of Wells' science fiction tales have been reprinted by James B. Baker (1925-2002) in his magazines The Sixth Sense and The Fifth Dimension. In addition, numerous older science fiction and mystery stories by Wells have reappeared in a series of anthologies recently published by Barnes and Noble.
Basil Wells passed away after a long illness at a nursing home in Starke, Florida on December 23, 2003. He was 91. Wells has left behind a legacy of some truly excellent short fiction that has unfortunately been neglected for too long. One can only hope that a reassessment of his contribution to science fiction literature and a revival of interest in his writings will follow some time in the future. The publication of a new collection of his stories would be a great way of preserving his work for future generations of readers.
What I've written above is meant as a mere overview of his writing career with some biographical notes. If I've inspired anyone to try out his writing for the first time then I'll be very pleased. I think his stories are terrific and it is encouraging that a number of them have been very recently reprinted in numerous anthologies. Perhaps in the future more of his excellent work will be unearthed and republished - let's hope so!
Richard Simms, 2004.
Revised in 2005.
Note: Since writing this essay I have edited and published a new book collection of Basil Wells' science fiction stories. Final Voyage and Other Science Fiction Stories was published in 2016 and assembles 11 stories unreprinted since their original appearance in 1950s magazines.